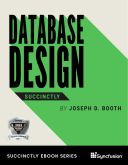 Discover captivating insights in Database Design Succinctly. Unveil the art of transforming user information into efficient computer database structures, yielding valuable outcomes. Joseph D. Booth expertly navigates you through crafting database systems that empower businesses with enhanced reporting, control, and accuracy. Engage with this guide to bridge the gap between user perception and optimal data storage, optimizing results and transforming data into actionable insights. Elevate your database design prowess and harness data's potential with an engaging read.
Table of Contents
Introduction
Data Models
Conceptual Model
Logical Model
Physical Data Model
Data Standards
Sample Data Models
Summary
Appendix
Download Free PDF / Read Online
Author(s): Joseph D. Booth
Publisher: Syncfusion Inc.
Published: May 2022
Format(s): PDF, Online
File size: 1.73 MB
Number of pages: 87
Download / View Link(s): Download or read online