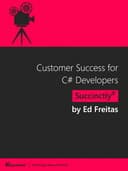 In Customer Success for C# Developers Succinctly, author Ed Freitas frames software developers as an essential part of providing exemplary customer service, whether they're part of helpdesk staff or experienced team leaders. By looking at how traditional helpdesks are oriented and the resulting behaviors, Freitas proposes a different approach that transforms customer support from a required, yet often neglected department, to one that can generate recurring and new business for your company.
Book Description
Topics included: Why Customer Success Matters • Incident Management • Helpdesk Tactics • Reflection to the Rescue.
Download Free PDF / Read Online
Author(s): Ed Freitas
Publisher: Syncfusion Inc.
Published: October 2016
Format(s): PDF, Mobi
File size: 2.05 MB(pdf)
Number of pages: 97
Download / View Link(s): PDF, Mobi