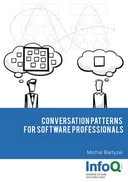 Conversation Patterns for Software Professionals includes a set of cut-and-dried techniques for improving your cooperation with the business. The main goal of this publication is to give you two key skills: discovering the business needs and managing the conversation in a way that will enable you to collect precise and useful information.
This book is set in the context of the process of software development.
Book Description
Topics included: Between the business and IT • What does it mean to "think in a business way"? • The art of asking questions • What is a business need? • Discovering business needs • Conversation structure • Questions that hit the nail on the head • How to convince your client to back your ideas • Is there a kind of chemistry between us?
Download Free PDF / Read Online
Author(s): Michał Bartyzel
Publisher: C4Media
Published: September 2016
Format(s): PDF
File size: 1.14 MB
Number of pages: 93
Download / View Link(s): PDF