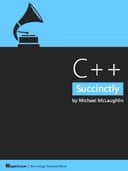 Latest free eBook from Syncfusion, "C++ Succinctly: C++ for C# Developers", is available in pdf and mobi (Amazon Kindle) formats. Are you an experienced C# developer looking to ease your way into C++? Author Michael McLaughlin walks you through C++ from types and functions to lambda expressions and the standard C++ library while relating these concepts to their parallels in C#.
Book Description
C++ Succinctly was written to help professional C# developers learn modern C++ programming. The aim of this book is to leverage your existing C# knowledge in order to expand your skills. Whether you need to use C++ in an upcoming project, or simply want to learn a new language (or reacquaint yourself with it), this book will help you learn all of the fundamental pieces of C++ so you can understand projects and samples written in C++ and begin writing your own C++ programs.
Table of Contents
Types
Namespaces
Functions and Classes
Storage Duration
Constructors, Destructors, and Operators
Resource Acquisition is Initialization
Pointers, References, and Const-Correctness
Casting in C++
Strings
C++ Language Usages and Idioms
Templates
Lambda Expressions
C++ Standard Library
Visual Studio and C++
Download Free PDF / Read Online
Author(s): Michael B. McLaughlin
Publisher: Syncfusion Inc.
Format(s): PDF, Mobi
File size: 2.23 MB
Number of pages: 123
Link:
Download.