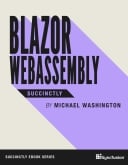 In Blazor WebAssembly Succinctly, author Michael Washington will take readers through the core elements of Blazor and then explore additional features by building a sample application.
Table of Contents
What is Blazor?
The Help Desk Application
Create the Help Desk Application
Explore the Project
Add Syncfusion
Creating a Data Layer
Creating New Tickets
Help Desk Ticket Administration
Sending Emails
Download Free PDF / Read Online
Author(s): Michael Washington
Publisher: Syncfusion Inc.
Published: August 31, 2020
Format(s): PDF, Mobi(Kindle), ePub, Online
File size: 1.95 MB
Number of pages: 105
Download / View Link(s): Download or read online