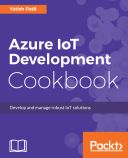 The Azure IoT Development Cookbook is a comprehensive guide that empowers developers to embark on the journey of creating tailored solutions using Azure's IoT hub or the preconfigured Azure IoT suite.
This resource equips developers with the knowledge and skills to seamlessly connect multiple devices to the Azure IoT hub, enabling them to develop and efficiently manage IoT hub services. The cookbook delves into the integration of the IoT hub with cloud services and covers essential protocols such as REST APIs, HTTP, MQTT, and AMQP. Additionally, it provides insights into utilizing the pre-configured IoT Suite solution. Whether you're a novice or an experienced developer, this cookbook is a valuable asset for mastering Azure IoT development. (Limited-time offer)
Table of Contents
Getting Started with the Azure IoT Platform
Introducing Device Management
IoT Hub Messaging and Commands
Azure IoT Communication Protocols
Azure IoT Hub Security and Best Practices
IoT Suite and Pre-Configured Solutions
Azure IoT Analytics
Using Real Devices to Connect and Implement Azure IoT Hub
Managing the Azure IoT Hub
Download Free PDF / Read Online
Author(s): Yatish Patil
Publisher: Packt Publishing
Published: August 2017
Format(s): Online
File size: –
Number of pages: 254
Download / View Link(s): This offer has ended.
Free as of 09/19/2023.