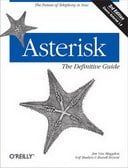 You can download "Asterisk The Definitive Guide Second Edition" for free from O'Reilly Open Books Project. This book is for those new to Asterisk, but we assume that you're familiar with basic Linux administration, networking, and other IT disciplines.
Book Description
This bestselling book is now the standard guide to building phone systems with Asterisk, the open source IP PBX that has traditional telephony providers running scared! Revised for the 1.4 release of the software, the new edition of Asterisk: The Future of Telephony reveals how you can save money on equipment and support, and finally be in control of your telephone system.
Table of Contents
A Telephony Revolution
Preparing a System for Asterisk
Installing Asterisk
Initial Configuration of Asterisk
Dialplan Basics
More Dialplan Concepts
Understanding Telephony
Protocols for VoIP
The Asterisk Gateway Interface (AGI)
Asterisk Manager Interface (AMI) and Adhearsion
The Asterisk GUI Framework
Relational Database Integration
Managing Your Asterisk System
Potpourri
Asterisk: The Future of Telephony
Download Free PDF / Read Online
Author(s): Leif Madsen, Jim Van Meggelen and Russell Bryant.
Publisher: O'Reilly Media
Format(s): HTML
Number of pages: 736
Link:
Download or read online.