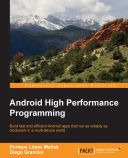 Android High Performance Programming is a comprehensive guide that delves into optimizing app performance on Android devices. The book emphasizes the significance of maximizing hardware potential to enhance user engagement and expand your app's reach.
It commences by introducing cutting-edge Android techniques, highlighting the crucial role of performance in app development. The guide extensively covers essential Android SDK tools for debugging and profiling applications. Furthermore, it explores advanced topics like layout design, multithreading, networking, and security. "Android High Performance" equips developers with the knowledge and tools needed to create high-performing Android applications, making it an invaluable resource for app optimization enthusiasts. (Limited-time offer)
Table of Contents
Introduction: Why High Performance?
Efficient Debugging
Building Layouts
Memory
Multithreading
Networking
Security
Optimizing Battery Consumption
Native Coding in Android
Performance Tips
Download Free PDF / Read Online
Author(s): Emil Atanasov, Enrique López Mañas, Diego Grancini
Publisher: Packt Publishing
Published: August 2016
Format(s): Online
File size: –
Number of pages: 412
Download / View Link(s): This offer has ended.
Free as of 09/13/2023.