Real Life Scrum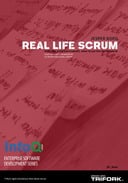 "Real Life Scrum: Tools, tips, tricks and tradeoffs when Scrum hits the real world" by Jesper Boeg. Real Life Scrum contains the most typical problems teams and organizations encounter when adopting Agile and Scrum.
Book Description
This mini-book is NOT about finding THE right answer, but aims to highlight common problems, solutions and tradeoffs teams and organizations face in their continuous transition to a more effective use of the principles behind Scrum. It focuses on solving real problems when working with Scrum and prioritizing value delivery, motivation and customer satisfaction higher than the process itself.
Table of Contents
Introduction
"Exhausting full day planning sessions and ambiguous sprint content
"We followed every rule in Scrum but our product still failed"
"Over-commitment – will story points help us?
"We cannot find a PO with sufficient time, skills and knowledge"
"Only the PO cares about sprint commitment"
"How should we approach our organization wide Scrum transition?"
"Should we go from 3 week to 4 week sprints?"
"Should we fix all bugs immediately or prioritize them on the backlog
"We are releasing too many products"
"Maintenance and operation tasks are ruining our sprint commitment"
"How do we commit to a releaseplan?"
"The Real Cost of Change" – by Liz Keogh
"Retrospective Actions" – by Diana Larsen
Good luck on your journey
Download Free PDF / Read Online
The Scrum Primer
"The Scrum Primer: A Lightweight Guide to the Theory and Practice of Scrum" by Pete Deemer, Gabrielle Benefield, Craig Larman and Bas Vodde.
Book Description
Scrum packages proven product-development concepts in a simple framework, including: real teams, cross-functional teams, self-managing teams, short iterative full-cycle feedback loops, and lowering the cost of change. These concepts increase agility and feedback, enable earlier ROI, and reduce risk. Scrum is a development framework in which cross-functional teams develop products or projects in an iterative, incremental manner. It structures development in cycles of work called Sprints. At the end of the Sprint, the Team reviews the Sprint with stakeholders, and demonstrates what it has built. People obtain feedback that can be incorporated in the next Sprint. Scrum emphasizes working product at the end of the Sprint that is really "done"; in the case of software, this means a system that is integrated, fully tested, end-user documented, and potentially shippable. There are many concise descriptions of Scrum available online, and this primer aims to provide the next level of detail on the practices.
Table of Contents
Beyond Traditional Development
Scrum Roles
Product Backlog
Definition of Done
Sprint Planning
Daily Scrum
Tracking Progress During the Sprint
Product Backlog Refinement
Sprint Review
Sprint Retrospective
Starting the next Sprint
Managing Releases
Application or Product Focus
Common Challenges
Download Free PDF / Read Online
Agile Transition
"Agile Transition: What you Need to Know Before Starting" by Andrea Tomasini and Martin Kearns.
Book Description
Written by the agile coaches of agile42, Agile Transition shares some fundamental knowledge to support many of the observations and conclusions that the authors have identified within organizations that have transitioned to a more agile approach to work. The authors share their failures and learnings in organizations transitioning to embrace agile, and they share their experiences of what is required to succeed.
Table of Contents
Understanding Agile
The Agile Manifesto
Empirical vs. Defined Process Control
Pull vs. Push System
Lean Thinking
Why is this Relevant for an Agile Transition
The Art of Balancing Freedom with Guidance
Understanding Where You Are, and What You Want to Be
Management Changes Required
Start by Assessing the Current Situation
Define a High-Level Strategy to Set a Clear Direction
Why Agile Cannot be Bought
Focus on People
Embrace Change, but Avoid Chaos
Download Free PDF / Read Online
The Culture Game
"The Culture Game: Tools for the Agile Manager" by Daniel Mezick. The Culture Game is your tutorial and reference guide for creating lasting business agility in your organization. This is the handbook for managers who want to rapidly develop a culture of learning inside their teams.
Book Description
This 70 page mini-book is excerpted from the full book, The Culture Game (Freestanding Press. May, 2012) and is available through Amazon in either print or Kindle editions. This free mini-book edition introduces Tribal Learning and presents the patterns and practices that will help teams become skilled at learning as a group.
Table of Contents
Introduction
Tribal Learning Overview
Introducing the Practices
Be Punctual
Announce Your Intent
Download Free PDF / Read Online