Here's a list of 10 best free Java books featured in this site which are most suitable for beginners. Some of them are available online and others can be downloaded in pdf format. Also don't forget to check out more than 100 free eBooks and online books in Java and Java EE sections.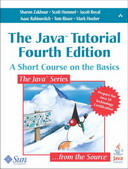 "The Java Tutorial Fourth Edition" is a complete beginner's hands-on guide to the Java programming language, The Java Tutorial, Fourth Edition is perfect for any developer looking for a proven path to proficiency with Java SE. It covers Version 7 of the Java Platform, Standard Edition. You can read this book online or download it in zipped HTML, ePub and Mobi formats.
Allen B. Downey's "Think Java: How to Think Like a Computer Scientist" is a good book to learn about programming. The goal of this book is to teach you to think like a computer scientist. This book is an introduction to Java programming for beginners. It is tailored for students preparing for the Computer Science Advanced Placement (AP) Exam, but it is for anyone who wants to learn Java. Read online or download in pdf format.
Read "Sams Teach Yourself Java 2 in 24 Hours, 3rd Edition", wrtitten by Rogers Cadenhead, online for free. It is a step-by-step tutorial that teaches someone with no previous programming experience how to create simple Java programs and applets.
"Thinking in Java", written by Bruce Eckel, provides a useful perspective on mastering Java for those with previous programming experience. The author's take on the essence of Java as a new programming language and the thorough introduction to Java's features make this a worthwhile tutorial. This book assumes that you have some programming familiarity.
Sixth Edition of "Introduction to Programming Using Java" by David J. Eck, a free, on-line textbook on introductory programming, which uses Java as the language of instruction. This book is directed mainly towards beginning programmers, although it might also be useful for experienced programmers who want to learn something about Java. It is certainly not meant to provide complete coverage of the Java language. Read online or download it in pdf format.
This is a first course in "Computer Science using the programming language Java" by Bradley Kjell. It covers the fundamentals of programming and of computer science using the Java 5.0 version. You can read it online.
This high school computer science text book by Charles E. Cook is highly focused, concise, and to the point. Many of the new features of the Java 5.0 and 6.0 are detailed in a free pdf version of this 543 page book. "Blue Pelican Java" is a somewhat unusual high school computer science textbook. It is available in pdf format.
"Java Programming for Kids, Parents and Grandparents" by Yakov Fain is written for kids from 11 to 80 years old and for school computer teachers, parents who want to get their child into the world of computer programming and college students who are looking for a supplement to overcomplicated textbooks. You can download it in pdf format in English, French, and Russian.

"Object-oriented Programming in Java", written by Richard L. Halterman, is a text still under development. It is used in a beginning computer programming course. The purpose of this text is to introduce computer programming to a diverse audience. Each chapter is available in pdf format.
"Java for the Beginning Programmer", written by Jeff Heaton, teaches Java to someone with absolutely no programming background. This book focuses on core programming topics such as variables, looping, subroutines, and program layout. It focuses on real programming techniques, and not using an Integrated Development Environment (IDE) to generate code. You can read it online.