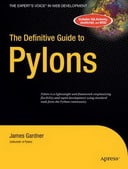 Free online book "The Definitive Guide to Pylons" by James Gardner. It brings you a comprehensive introduction to Pylons, the web framework that uses the best of Ruby, Python, and Perl and the emerging WSGI standard to provide structure and flexibility.
Description
With expert guidance from the author, you'll learn how to create your own Pylons–driven web site using SQLAlchemy and FormEncode and attain the mastery of advanced Pylons features, such as internationalization and localization, packaging and deployment.
Table of Contents
Introducing Pylons
Installing Pylons
Exploring Pylons
Tracking Down and Handling Problems
Using View Templates
Working with Forms and Validators
Introducing the Model and SQLAlchemy
Starting the SimpleSite Tutorial
URLs, Routing and Dispatch
Unicode
Internationalization and Localization
Testing
Documentation
SimpleSite Tutorial Part 2
CSS, JavaScript, and Ajax
The Web Server Gateway Interface (WSGI)
Pylons' Internal Architecture
Authentication and Authorization
SimpleSite Tutorial Part 3
Logging
Deployment
Book Details
Author(s): James Gardner
Format(s): HTML
Number of pages: 568
Link:
Read online.