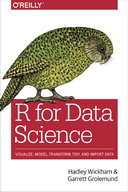 Learn how to use R to turn raw data into insight, knowledge, and understanding. R for Data Science: Import, Tidy, Transform, Visualize, and Model Data introduces you to R, RStudio, and the tidyverse, a collection of R packages designed to work together to make data science fast, fluent, and fun. Suitable for readers with no previous programming experience, R for Data Science is designed to get you doing data science as quickly as possible.
Description
Topics included: Introduction • Data visualisation • Workflow: basics • Data transformation • Workflow: scripts • Exploratory Data Analysis • Workflow: projects • Tibbles • Data import • Tidy data • Relational data • Strings • Factors • Dates and times • Pipes • Functions • Vectors • Iteration • Model basics • Model building • Many models • R Markdown • Graphics for communication • R Markdown formats • R Markdown workflow.
Book Details
Author(s): Garrett Grolemund, Hadley Wickham.
Publisher: O'Reilly Media
Published: January, 2017
Format(s): Online (HTML)
File size: –
Number of pages: 522
Download / View Link(s): Read online