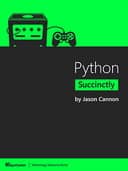 Learn to use the Python language to create programs of all kinds. Author Jason Cannon will guide you from complete unfamiliarity with Python to creating practical applications. With Python Succinctly, lack of experience isn't an obstacle to programming language mastery.
Description
Topics included: Configuring Your Environment for Python • Variables and Strings • Numbers, Math, and Comments • Booleans and Conditionals • Functions • Lists • Dictionaries • Tuples • File I/O • Modules.
Book Details
Author(s): Jason Cannon
Publisher: Syncfusion Inc.
Published: January 2016
Format(s): PDF, Mobi(Kindle)
File size: 1.95 MB(pdf)
Number of pages: 146
Download / View Link(s): PDF, Mobi