Free Pascal Books
---
Posted on November 8th, 2012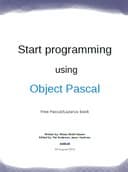 Free Pascal/Lazarus ebook: "Start programming using Object Pascal" by Motaz Abdel Azeem in pdf format.
---
Posted on November 18th, 2011
"Essential Pascal" is an introduction to the basic features of the Pascal language, as found in Delphi and other modern development tools, from the best selling author of Mastering Delphi. This book has been written by Marco Cantù and covers the language form the perspective of Borland's Delphi development environment.
---
---