---
---
---
---
---
---
---
---
---
---
---
---
Free Offer of the Day!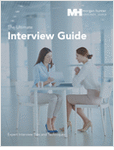 The Ultimate Interview Guide - Free eBook!
Get tips from the team that conducts over 250 interviews a month. At Morgan Hunter, we interview an average of 257 people a month. We've seen it all - the good, the bad, and the just okay. We want to share our experience with you, because we know what it takes to have a successful interview. In this eBook, we will walk you through the steps you need to take to nail your next interview.
---