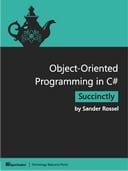 Object-oriented programming is the de facto programming paradigm for many programming languages. Object-Oriented Programming in C# Succinctly provides an introduction to OOP for C# developers. Author Sander Rossel provides overviews and numerous samples to guide readers towards OOP mastery.
Description
Topics included: The Three Pillars of OOP • Interfaces • SOLID • Design Patterns • General Responsibility Assignment Software Patterns or Principles (GRASP) • Architecture • Other Paradigms.
Book Details
Author(s): Sander Rossel
Publisher: Syncfusion Inc.
Published: April 2016
Format(s): PDF, Mobi(Kindle)
File size: 1.57 MB(pdf)
Number of pages: 95
Download / View Link(s): PDF, Mobi