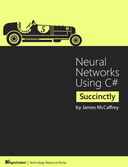 With Neural Networks Using C# Succinctly by James McCaffrey, you'll learn how to create your own neural network to solve classification problems, or problems where the outcomes can only be one of several values. Learn how to encode and normalize qualitative data into numeric data a neural network can use, different activation functions and when to use them, and ultimately how to train a neural network to find weights and bias values that provide accurate predictions.
Description
Topics included: Neural Networks • Perceptrons • Feed-Forward • Back-Propagation • Training.
Book Details
Author(s): James McCaffrey
Publisher: Syncfusion Inc.
Published: June 2014
Format(s): PDF, Mobi(Kindle)
File size: 1.89 MB
Number of pages: 128
Download / View Link(s): PDF, Mobi