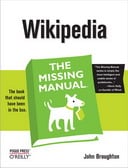 Read Oreilly's "Wikipedia: The Missing Manual" online for free. Learn how to contribute to Wikipedia, the popular user-generated online reference that serves 9 million entries and 2.5 billion requests per day.
Description
Wikipedia: The Missing Manual gives you practical advice on how to create articles and collaborate with fellow editors, how to improve existing articles, and how to work with the Wikipedia community to review new articles, mediate disputes, and maintain the site.
Table of Contents
Editing for the First Time
Documenting Your Sources
Setting Up Your Account and Personal Workspace
Creating a New Article
Who Did What: Page Histories and Reverting
Monitoring Changes
Dealing with Vandalism and Spam
Communicating with Your Fellow Editors
WikiProjects and Other Group Efforts
Resolving Content Disputes
Handling Incivility and Personal Attacks
Lending Other Editors a Hand
Article Sections and Tables of Contents
Creating Lists and Tables
Adding Images
Getting Readers to the Right Article: Naming, Redirects, and Disambiguation
Categorizing Articles
Better Articles: A Systematic Approach
Deleting Existing Articles
Customizing with Preferences
Easier Editing with JavaScript
Book Details
Author(s): John Broughton
Format(s): HTML
Number of pages: 512
Link:
Read online.