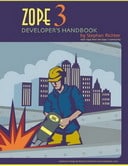 Free ebook "Zope Developer's Handbook" concentrates on covering the tasks that an application developer would want to learn how to accomplish in order to implement Zope 3, and it also includes an advanced introduction to what's new in Zope 3. New developers will use this first-to-market, solutions-oriented, task-based reference on a daily basis as they build powerful Web applications with Zope.
Description
This collection of cookbook recipes provides easy-to-follow solutions to common problems you may face as a Zope or Python developer when beginning to implement the Zope 3 open-source application server. Utilize the book's solutions-oriented, task-based structure, as well as the supporting website for code used in each recipe, to help build your Zope components.
Table of Contents
Zope 3 from a User's Point of View
The Ten-Thousand Foot View
Content Components – The Basics
Content Components – Advanced Techniques
Other Components
Advanced Topics
Writing Tests
Book Details
Author(s): Stephan Richter
Format(s): PDF
File size: 2.76 MB
Number of pages: 485
Link:
Download.