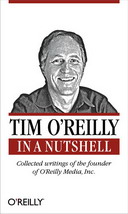 "Tim O'Reilly in a Nutshell: Collected Writings of the Founder of O'Reilly Media, Inc.", published by O'Reilly Media, is freely available in several ebook formats from O'Reilly shop.
Description
It's not easy to put Tim O'Reilly in a nutshell, but with the essays in this collection, you get valuable insight into the mind of the founder and CEO of O'Reilly Media. Tim O'Reilly in a Nutshell contains more than a dozen essays that discuss paradigm shifts in technology, the future of online publishing, and the way he approaches business. Along the way, he discusses open source projects, Unix, and technologies from Microsoft, Apple, and other companies.

A preacher.That's what the high school aptitude test told Tim O'Reilly he should be. Possessed of a yearning to understand, a passion for doing the right thing, the desire to spread the good word, and the skill to persuade,Tim was a prime candidate for the ministry. As it happens, he ended up preaching the gospel of technology.

Tim is also, fundamentally, a writer. In the twenty-five years he's spent immersed in the computer technology world, Tim has often turned to writing as a tool to understand, and to share what he discovers. Tim O'Reilly in a Nutshell is a collection of Tim's most thought-provoking pieces about technology, the publishing business, and life (arranged by theme rather than date).
Table of Contents
The New Era of Pervasive Computing
All Software Should Be Network Aware
The Open Source Paradigm Shift
Watching the "Alpha Geeks": OS X and the Next Big Thing
Hardware, Software, and Infoware
Piracy is Progressive Taxation
Information Wants to be Valuable
Beyond the Book
Buy Where You Shop
Rules of Thumb
Fishing with Strawberries
Some Necessary Qualities
Ten Years as a Publisher
Knowing When to Let Go
Walking the Kerry Way
Books That Have Shaped My Thinking
Book Details
Author(s): O'Reilly Media, Inc.
Format(s): PDF, ePub, Mobi
File size: 1.90 MB
Number of pages: 131
Link:
Download