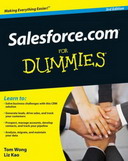 Sign up now to receive your free copy of "Salesforce.com for Dummies" eBook. Ready to start solving business challenges with CRM (Customer Relationship Management) software?
Description
Interested in the latest enhancements and updates to Salesforce.com? Salesforce.com For Dummies has just what you need. Salesforce.com is like an assistant for your sales, customer service, and marketing efforts — one that never takes a day off and never asks for a raise. Because it's an Internet service, you sign up and log in through a browser, and it's immediately available.
Table of Contents
Looking Over Salesforce
Navigating Salesforce
Personalizing Your System
Managing Accounts
Developing Contacts
Collaborating with Chatter
Managing Activities
Sending E-Mail
Prospecting Leads
Tracking Opportunities
Tracking Products, Price Books, and Quotes
Managing Your Partners
Driving Demand with Campaigns
Building Your Internet Marketing Channel
Driving Sales Effectiveness with Document Management
Performing Fast and Accurate Support
Managing Your Service Cloud 2 Solution
Analyzing Data with Reports
Seeing the Big Picture with Dashboards
Fine-Tuning the Confi guration
Customizing Salesforce with Force.com
Extending Salesforce beyond CRM with Custom Cloud
Migrating and Maintaining Your Data
Book Details
Author(s): Tom Wong, Liz Kao and Matt Kaufman.
Format(s): PDF
File size: 7.84 MB
Number of pages: 437
Link:
Download.