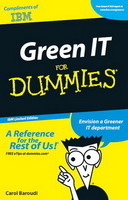 Download free eBook "Green IT For Dummies IBM Limited Edition" From IBM.

Description
For reasons both economic and environmental, as well as for reasons of capability, companies of all sizes need to hone in on ways to make their processes greener. Get started today with practical solutions inside this book for a better way to do business that is good for your bottom line and good for the environment.
Table of Contents
Reduce costs and meet your IT business goals
Be more environmentally responsible
Leverage IT for green processes
Identify Green IT starting points
Book Details
Author(s): Carol Baroudl, Jeffrey Hill and Arnold Reinhold
Format(s): PDF
Number of pages: 349
Link:
Download.