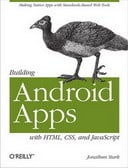 You can read "Building Android Apps with HTML, CSS, and JavaScript" from O'Reilly Labs Open Feedback Publishing System. If you know HTML, CSS, and JavaScript, you already have the tools you need to develop Android applications.
Description
This hands-on book shows you how to use these open source web standards to design and build apps that can be adapted for any Android device without having to use Java. Topics covered: Basic Styling, Advanced Styling, Animation, Client-Side Data Storage, Going Offline, Going Native, Submitting Your App To Android Market, Detecting Browsers with WURFL.
Table of Contents
Getting Started
Basic Styling
Advanced Styling
Animation
Client-Side Data Storage
Going Offline
Going Native
Submitting Your App To Android Market
Book Details
Author(s): Jonathan Stark
Format(s): HTML
Number of pages: 184
Link:
Read online.