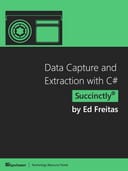 Capturing and extracting information is one of the most important tasks a developer can perform, and making this task more engaging without relying entirely on specialized tools is an efficient way to improve productivity. In Data Capture and Extraction with C# Succinctly, author Ed Freitas guides readers towards getting more out of C# in minimal time.
Description
Topics included: Extracting Data from Emails • Extracting Data from Screenshots • Extracting Data from the Web • Extracting Meaning from Text
Book Details
Author(s): Ed Freitas
Publisher: Syncfusion Inc.
Published: September 2016
Format(s): PDF, Mobi
File size: 2.11 MB(pdf)
Number of pages: 85
Download / View Link(s): PDF, Mobi